There are lots of recommendations on the Intenet for people attending CiscoLive the first time. Here are mine. Perhaps they are helpful for one or the other.
Before the conference at home
You probably already booked your CiscoLive pass of choice. If not and the full conference pass is not within the budget, The Explorer pass gives you access to the World of Solutions and also the Devnet Zone. These areas are huge and it is possible to spend a lot of time there. And with the "Next Gen Explorer" pass you even get three sessions. That's also a good deal.
With the "Full conference" pass, don't try to fill every possible time slot with sessions. There are lots of other activities that should not be missed. Sessions are important, also to get Cisco Continuing Education Points (CEs), but they are not everything.
Don't be surprised if there are time slots where no sessions are available. For example while the welcome keynote is happening, everyone should listen and not attend sessions.
Before the conference in Las Vegas
Make sure to have good shoes. A conference day can have easily 15 to 20k steps, sometimes even more.
I typically visit the Las Vegas South Premium Outlets and buy one or two pairs of sketchers. They are not very durable, but as long as they last, they are very comfortable. The Outlet is easily reachable by the RTC Deuce bus. Tickets are available at the ticket machines that are placed at many of the bus stops.
Playing Ingress? The "Welcome to Fabulous Las Vegas" sign is one of the mosaics that you can add to your scanner. It starts and ends near the MGM Grand on the Las Vegas Strip south. Start the walk early and don't forget your water bottle.
If you get hungry and still eat meat, my recommendations are:

Outback Steakhouse, the Outback finished Prime Rip is just fantastic.
Gordon Ramsay's Burger, hands down the best burger I ever had.
Both are directly at the Las Vegas Strip.

I am quite sensitive to dry air. And regardless if it's outside or inside (with air con), the air is always very dry. If the same is true for you, make sure to have your lipgloss, saltwater-based nasal spray and possibly eye-drops with you.
At the conference
If you don't have a Techtorial or a Lab on Sunday, this day is good to do the complimentary Cisco Exam. Bring warm clothes, the test center (and also many conference rooms) are often fu***ng cold.
Also on Sunday make yourself comfortable with the location of important rooms that you need to visit over the week. The conference center is huge and it's easy to get lost. Luckily every few meter is someone from the CiscoLive staff to help and give directions. They are standing there the whole time and help the attendees. What about giving them at least a smile?
If your favourite session is completely booked, you still can go to the room and wait if places stay free. This is quite often the case.
For the keynotes, there is a reserved seating area near the stage for CCIEs and CCDEs. But typically there are less reserved seats than candidates. Arrive early if you want to attend and have a good seat.
If you spot this nice guy (the one on the left) at CiscoLive, stop everything you are doing and make a Selfie with him! Just ignore the one on the right.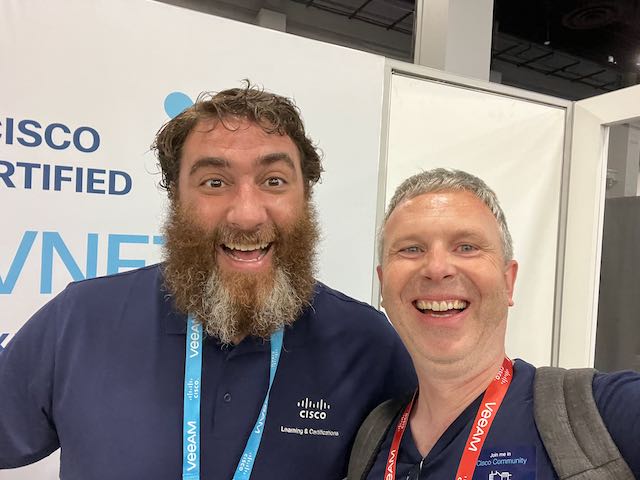 Not yet sure if you want to attend the opening keynote because you are not that much into marketing? Give it a try. Although Chuck Robbins is not as charismatic as the former Cisco CEO John Chambers (ok, now it's over with ever getting a job at Cisco), listening to his session is still very interesting.
Also for CCIEs and CCDEs, Tuesday evening is the CCIE party for which you should get an e-mail invitation. Typically you are allowed to bring one (!) non-CCIE/CCDE guest to the party.
Wednesday is the CAE, the Customer Appreciation Event. When entering the event you get a special hat. Some people don't wear them, but they have a long tradition and are also collected by many multi-time attendees. Wear your first hat with proud!
After the conference
CiscoLive (US) ends on Thursday in the afternoon. In some years I had to fly back directly on this last day which is quite stressful. If possible I try to book a flight on Friday instead.
Are you already excited? So I am with my 20th CiscoLive this year.
Not yet registered? Do it on the CiscoLive site!